Very Seinfeld: A Museum Exhibit About Visiting Museum Exhibits | At the Smithsonian
---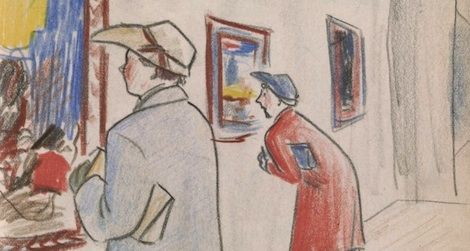 Imagine walking in the footsteps of an artist visiting an art gallery. Do you feel inspired or intimidated? And what would you think if you came across a bored, unattended guard sleeping at his post?
The Smithsonian's Archive of American Art, which collects sketchbooks, letters, financial records and other ephemera documenting the lives of American artists, answers some of these questions in its new exhibit, "A Day at the Museum", which recently opened at the Lawrence A Fleischman Gallery.
Curator Mary Savig says the multi-faceted exhibition shines a light not only on the lives of artists, but also the museums themselves – how they have evolved over time, as well as their roles as artistic incubators, educating and opening minds to art, history and culture. But before you rush off in alarm at the didactics, consider some of the tales revealed here.
In an oral history interview, conceptual artist Eleanor Antin recalls her childhood visits to the Museum of Modern Art in the 1940s. "I used to choose an image. I would seriously look around and choose an image that I would simply study," she says. "I was also looking at other things, but I was spending a lot of my time that day in front of this picture. I remember these in great detail, because I really looked at them very deeply and with great pleasure.
Sculptor Lee Bontecou also visited New York museums in her youth. She says she was stunned by an exhibition of Van Gogh she saw with her mother at the Metropolitan Museum of Art. "We were both upset. It was amazing," she says in her oral history recording. "We both held hands and got through it all."
Pioneering light artist Dan Flavin, who worked at the American Museum of Natural History in the 1960s, wrote to an art curator saying the museum's exhibits inspired early designs for his art. And it was collage artist Romare Bearden who visited the Museo Della Conservatori in Italy in the 1950s and found all of its guards sound asleep. "Anyone could have walked away with the whole museum," he wrote to a mentor.
A document reveals that the American Museum of Natural History in New York, now one of the most respected museums in the world, was a bit more carnivalesque than cultural when it opened. Painter Jervis McEntee wrote in his diary after a visit in 1877 that he enjoyed seeing a fat woman and a tattooed man.
"In many ways, museum attendance has changed," says Savig, "so we want to show people what things are the same or why things are different."
The exhibition collects not only letters from famous artists, but also diaries' entries, sketches of museum visits and photos of famous and digerati visiting museums. Other recorded stories delight us with memories of special visits. In total, around fifty documents and recordings from the last two centuries are presented.
The main goal, says Savig, is to show how the breadth and depth of American art reflects the variety of experiences a person, artist or otherwise, might have in a museum: "Some people have fun go to exhibitions with their children or their parents, and some people are just there to study, because they are students, some people are guards. We really wanted to show a variety of museum experiences, because that's what our visitors will experience.
Savig also encourages visitors to share their experiences.
"A Day at the Museum"— the museum exhibit on visiting museum exhibits — is open until June 2, 2013. The exhibit has its own hashtag, #DayAtTheMuseum, and a Flickr page where museum visitors can post photos of their trips to museums around the world. Check out some of the photos shared below.