The Detroit Museum exhibits a major painting by Julie Mehretu, the first in a series of works loaned by black artists
---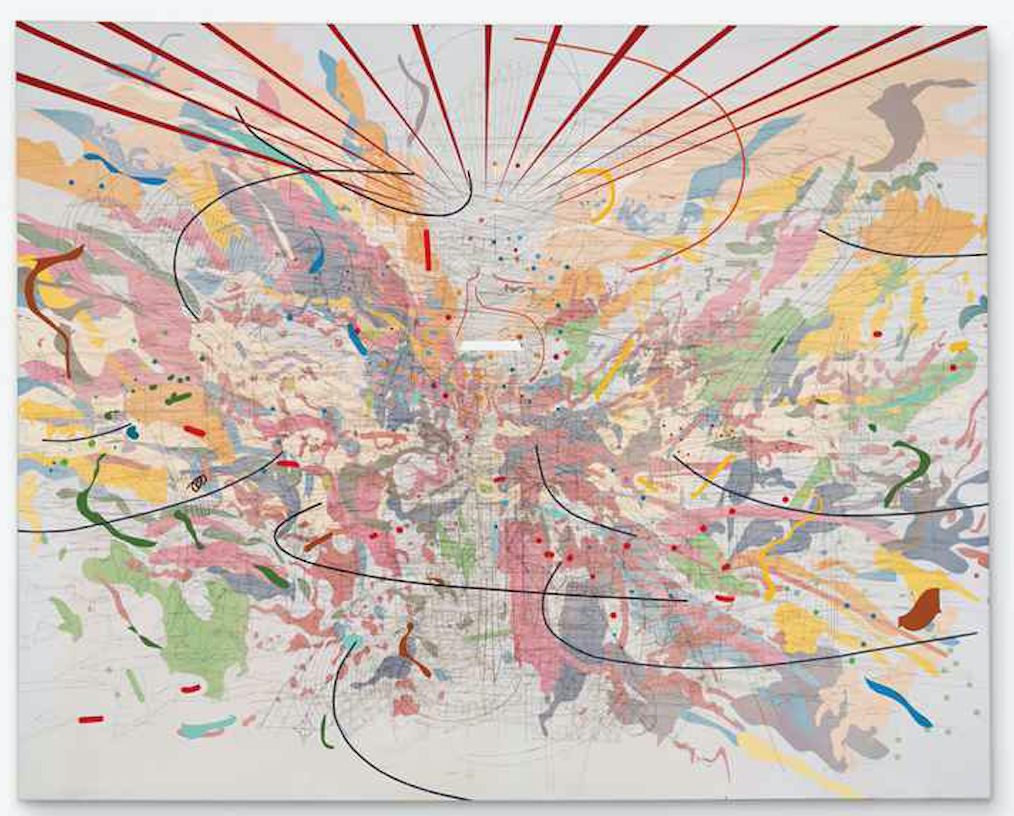 Julie Mehretu, "Return to a Bright New Future" (2003).
A MAJOR TABLE of Julie Mehretu is on view in the Contemporary Art Galleries of the Detroit Institute of the Arts (DIA). A symphony of lines, colors and shapes, "Looking Back to a Bright Future" (2003) is on loan from a private collection for two years. The painting is part of the museum's Guest of Honor program, an effort to expand the selection of works on display at the DIA by accepting a series of loans for temporary exhibition.
Created in 2012, the Guest of Honor initiative was launched with the loan of Vermeer's "Woman Holding a Balance" (circa 1664). The Dutch Baroque artist's painting was displayed as a public thank you to residents of Wayne, Oakland and Macomb counties, the three surrounding counties where a 10-year property tax supporting museum operations was passed in August 2012.
"We usually link how the work relates to aspects of the DIA's collection, or try to bring in works by artists not represented in the collection, like Vermeer and Mehretu," said Pamela Marcil, director of relations. from the museum to Culture Type.
The Mehretu loan marks a new phase of the program, the first in a series of guest of honor selections of African-American artists curated by Valerie Mercer, curator of the museum's General Motors Center for African American Art. The development is tied to the museum's Reflecting Our Community initiative, a concerted effort to diversify DIA's attendance with the goal of reflecting the region's racial and ethnic demographics by 2020.
The development is tied to the museum's Reflecting Our Community initiative, a concerted effort to diversify DIA's attendance with the goal of reflecting the region's racial and ethnic demographics by 2020.
KNOWN FOR HER LARGE SCALE, abstract paintings, Mehretu's canvases are complex explorations of time, space, history and geography. She builds layers of acrylic paint and narrative content, such as map grids and abstract war images, which she then layers with marks using pencil, pen, ink and more paint.
She lives and works in New York, but has a connection to the State of Michigan. Born in Addis Ababa, Ethiopia when she was in elementary school, Mehretu moved with her family to East Lansing, Michigan, where her father taught at Michigan State University. She then earned an undergraduate degree from Kalamazoo College, before pursuing an MFA at the Rhode Island School of Design. In 2007, DIA presented "City Sitings" by Mehretu. The solo show was the inaugural exhibition marking the grand reopening of the museum after a six-year gallery renovation and relocation project.
"Looking Back to a Bright Future" by Mehretu sold at Christie's London for more than $3.4 million on June 30, 2015. According to DIA, the painting "evokes a sense of speed, dynamism, struggle and potential associated with the early 20th century. utopian promise of a better future. This painting highlights the idealism of new urbanism in postcolonial Africa. The drawings resemble schematic maps of planned neighborhoods, the atlas marks of dots refer to economic centers and the colored irregular shapes suggest countries in Africa.The density of the imagery implies the range and complexity of issues facing African countries competing for a better future in the global economy .
Plans are underway to feature additional works while Mehretu's painting is on display. The museum says Mercer is working on the following loans: Robert Duncanson"Land of the Lotus Eaters," an 1861 painting owned by the Taft Museum of Art in Cincinnati; 1930s street scene painting by Archibald Motley, and Henry O. Tannerfrom The Raising of Lazarus (1896), which is in the collection of the Musée d'Orsay in Paris. The museum also plans to borrow a work by a contemporary artist Sanford Biggers, whose solo exhibition "Subjective Cosmology" was recently presented at another museum in the city, the Museum of Contemporary Art Detroit.
When DIA announced that Mehretu's painting was on display, museum director Salvador Salort-Pons said, "Artists from diverse backgrounds tell stories that are often not highlighted in traditional art museums. , and we are committed to elevating these stories and sharing them with all of our visitors." CT
BOOKSHELF
Accompanying the artist's 2007 exhibition at the Detroit Institute of the Arts, "Julie Mehretu: City Sitings" features five new Detroit-related works from her City Sitings series. "Julie Mehretu: Liminal Squared" completes the artist's first major solo exhibition in London at the White Cube gallery. The exhibition featured new and recent paintings in a purpose-built environment designed by architect David Adjaye in collaboration with Mehretu.
TYPE OF SUPPORTING CULTURE
Do you like and appreciate the type of culture? Please consider supporting its ongoing production by making a donation. Culture Type is an independent art history project that requires countless hours and expenses to research, report, write and produce. To help support it, make a one-time donation or sign up for a recurring monthly contribution. It just takes a minute. Thank you very much for your support.